invisalign iTero® Scanner
Dentistry's finest technology enables us to take a 3D digital record of your mouth and show how Invisalign can enhance your smile.
Revolutionary dentistry, iTero Element Scanner
At Oakley Road Dental Practice, we are constantly seeking new ways to improve our patient experience through an investment in training and innovative new equipment. We like to lead the way when it comes to modern dentistry, and with the new iTero Element Scanner we can offer our patients a superior, stress-free and faster visit, with stunning results every time.
Designed to deliver outstanding imagery at the touch of a button, with the iTero Element Scanner you no longer have to endure the process of putty impressions. Instead, this industry-leading machine can show you 3D imagery whilst you sit and relax in our dentist's chair.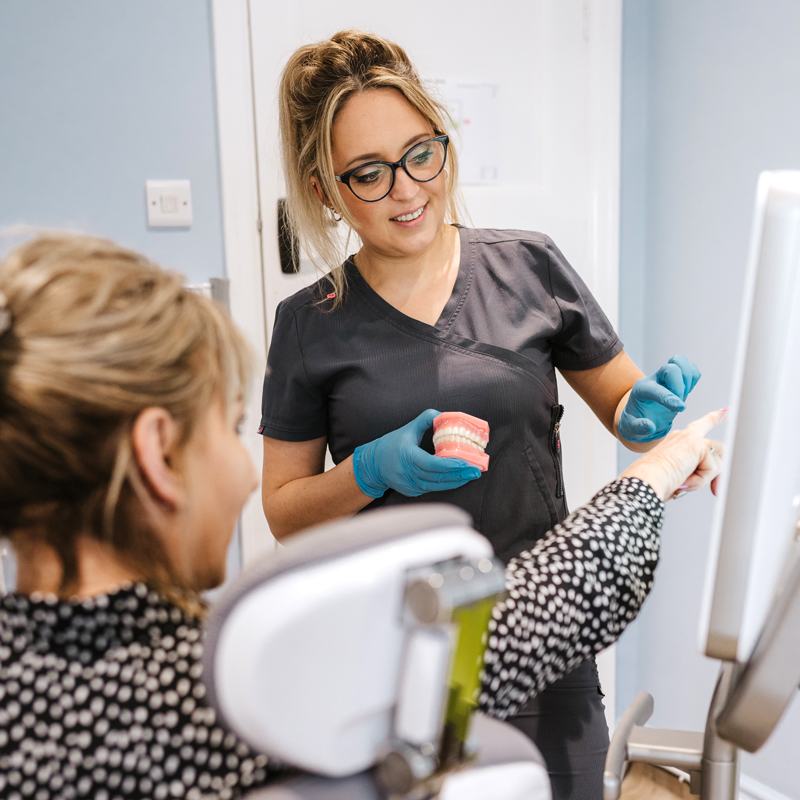 When a picture paints a thousand words
Some things need to be seen to be believed and thanks to the iTero Element Scanner our highly trained dentists can capture thousands of detailed images of the inside of your mouth and assemble them before your very eyes, in an accurate 3D model.
You don't need to visualise what your teeth will look like when straightened, we can show you at the tap of a handheld "wand", in clear colour imagery. And that, as they say, is magic!
The science behind the iTero Element Scanner
This scanner uses a medical-grade, low-radiation laser that allows our highly trained dentists to capture multiple pictures of your teeth. Rotated around the mouth, it enables us to get a complete scan of your teeth and gums in less than 10 minutes, whilst being pain and putty free.
The iTero Element Scanner not only allows us to fully assess your teeth, mouth and gums looking out for any potential oral health issues, but when used in conjunction with Invisalign clear braces, it can accurately plan out each stage of your progress in real-time.
Quicker, cleaner and far more accurate than other conventional methods, the ITero Element Scanner allows us to take impressions of your teeth in preparation for treatment. By scanning your teeth in advance, we can identify any potential issues and plan for any tooth wear, movement or changes to the gums. This gives you, as the patient, full control over your treatment as you work alongside your dentist making treatment adjustments for the best possible outcome.
Benefits of using 3D ITero Element Scanners
There are many benefits to using this state-of-the-art equipment, including:
Less mess than putty impressions. This allows us to create accurate impressions of your teeth in multiple stages of treatment without the need for gloopy putty.
Speedier than convention methods. Less time is required in the dentist chair as the iTero Element Scanner can take 6,000 frames per second.
Compatible with Invisalign treatment. Engineered specifically to work with Invisalign treatment, your personal scans can be sent straight to the lab for the quick fabrication of your Invisalign aligners.
Accurate visual imagery. The iTero Element Scanner can show you visually what your teeth will look like pre, during and post treatment, allowing you to view your new smile before it even exists.
The iTero Element Scanner – now at Oakley Road Dental Practice
We are so excited to be able to offer 3D iTero Element scanning to our patients, as part of your regular check-up or in conjunction with our Invisalign treatment.
The entire team, from reception staff,Nurses, Hygienists and Dentists, are caring, considerate and meticulous.

I had become phobic, following a bad experience. Mel and Michelle have/are treating my problems and have totally restored my confidence.

No pain, just very kind, considerate and professional practitioners. I cannot recommend them highly enough.