This summer, take on the Big Family Brush-Up! 24th June – 31st August 2019
Without a doubt, one of the most stressful parts of the day for any parent is the teeth brushing battle that commences first thing in the morning and last thing at night. Tiredness, general averseness and lack of time all contribute to a hurried, often ineffective teeth clean.
This summer at Oakley Road Dental Practice we are supporting families by helping them to understand the importance of a proper teeth brushing routine and the impact it has on their oral health.
We'll be providing a helping hand in getting your kids to brush their teeth in conjunction with Denplan and Simplyhealth's national campaign – The Big Family Brush Up!
Over the next few weeks, we'll be sharing some top tips, visiting local schools, hosting an open day here at the practice and offering advice on how to make teeth brushing fun for all the family – so stay tuned for more information.
Teething problems
Tooth decay is a huge problem in the UK, especially amongst school aged children. In a recent survey conducted by Simplyhealth, statistics showed almost a third of children under the age of 18 taking part in the study had already needed a filling with some requiring up to five!
These statistics are shocking. We all know that we need to brush our teeth for two minutes twice a day, the question is, are we actually all doing it?
Out of 1,000 parents questioned, 18% admitted that their child only brushed their teeth once a day, with two thirds confessing that two minutes proved too challenging for their child. So how can we help our children to brush their teeth thoroughly and overcome their reluctance to brush regularly?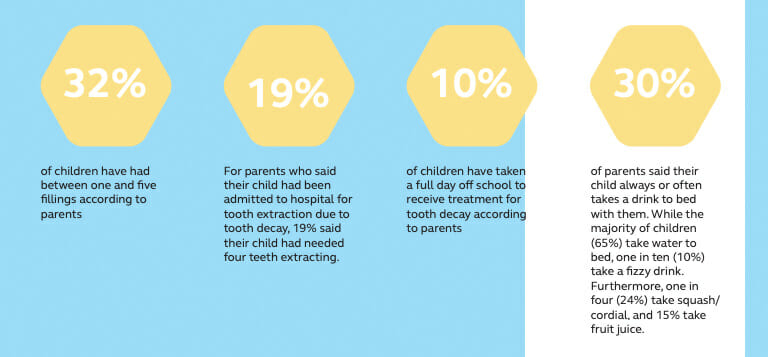 Big smiles all round
Teeth brushing to kids is the equivalent to sorting out a full dirty washing basket for an adult. You know it needs to be done but it feels like a chore.
Making brushing fun can help encourage your child to look after their teeth. We recommend allowing them to:
choose their own toothbrush and favourite flavoured paste.
provide them with their own toothbrush holder which they can decorate and personalise.
select a song to listen to whilst you brush.
set a timer which you can count down together.
We have a cleaning reward chart that you can download here, so that your kids can keep track of their brushing. All your child needs to do, is fill in their brushing charts every morning and night for four weeks.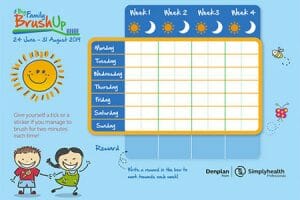 Top dental tips that are easy to follow
We want your child to adopt a healthy brushing routine so here's some simple advice to help you all.
Make sure you brush your teeth the minute you wake up. Brushing after breakfast is actually more damaging for your teeth, due to the acid and sugars that soften our enamel, found in the foods that we eat. It is also easier to get your child to do two minutes when they have longer to linger, rather than last minute as they scramble to school.
Brush your teeth at least an hour after eating each evening. Similar to the morning routine, certain foods can cause damage to your teeth so it's always best to wait a while before cleaning. Once brushed, make sure your child only drinks water without extra snacks.
Invest in a timer so that your child can grasp the concept of time. Whether it is a sand egg timer or a musical app, two minutes can feel like an eternity without watching the seconds tick by.
Make sure that your child's toothpaste contains the recommended strength of fluoride for their age group. Children under the age of three years old should use a smear of toothpaste containing no less than 1000 ppm. Children between three and six years old should use a pea-sized amount of toothpaste containing more than 1000 ppm fluoride, whilst children aged 7 and over can have fluoride toothpaste containing between 1,350ppm and 1,500ppm.
Be a part of the big family brush-up
Get your toothbrushes at the ready and join us for a summer challenge as part of the national brush-up campaign. Running from 24th June – 31st August you can pick a four week timeframe to suit you and your family.
Don't forget to download your very own reward chart and send your pictures to www.bigfamilybrushup.co.uk for a chance to win some fabulous prizes. Here you can also find more tips, information and downloadable resources to help your family brush better.
Book your child a check-up today
We know that visiting the dentist can be nerve wracking, especially for children, but our friendly team of dentists and dental staff at Oakley Road are here to make it fun.
We offer family appointments so that you can all be seen at once and can provide a host of different payment plans including Denplan for Children to make life easier for you when check-ups are due.
So, to make an appointment get in touch today by booking online or calling 023 8077 1450.